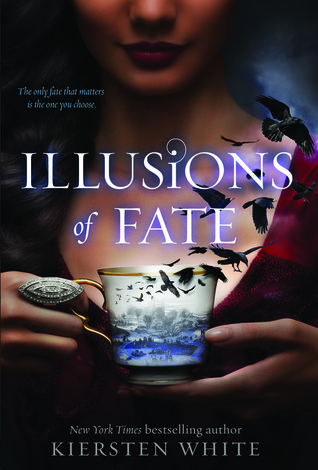 From Goodreads:
Downton Abbey meets Cassandra Clare in this lush, romantic fantasy from New York Times bestselling author Kiersten White.

"I did my best to keep you from crossing paths with this world. And I shall do my best to protect you now that you have."
Jessamin has been an outcast since she moved from her island home of Melei to the dreary country of Albion. Everything changes when she meets Finn, a gorgeous, enigmatic young lord who introduces her to the secret world of Albion's nobility, a world that has everything Jessamin doesn't—power, money, status…and magic. But Finn has secrets of his own, dangerous secrets that the vicious Lord Downpike will do anything to possess. Unless Jessamin, armed only with her wits and her determination, can stop him.
Kiersten White captured readers' hearts with her New York Times bestselling Paranormalcy trilogy and its effortless mix of magic and real-world teenage humor. She returns to that winning combination of wit, charm, and enchantment in Illusions of Fate, a sparkling and romantic new novel perfect for fans of Cassandra Clare, The Madman's Daughter, and Libba Bray.

My Review
:
I loved these characters, and this book, and this world, it's history was just magnificent, full of problems and fights, and petty squabbles. So yeah, there's that, and that was so very enjoyable! And yeah, there was some really great other things, like Sir Crow!
I love this cover! It's so beautiful, and atmospheric, and everything means something, from the ring, to the tea, to the crows, and yeah, crows that can be books, that hold magic, yeah, those are some of the wonders in this book!
The land and history is kinda based on England for Albion, and then of some places that England took over when they had their empire for Melei, and then there were some lands that were independent, like France and Spain in real life. But just because there were similarities, doesn't mean that there wasn't differences! Like, say, in this world, there's magic!
I really enjoyed these characters, from Jessamine, Finn, Eleanor, and even Kelen a bit. For me, this book was about as far away from the Paranormalcy trilogy as it can get, instead of a girl with magic wanting to be normal, this is a book about a normal girl, being forced into the magical world. And she does really well, too, what with her mathematical minded brain!
This was just such a fantastic book, and just before the end, I would've said it should have a sequel, but with the whole thing, it could be a stand alone, though I'd love to be with these characters more if I could!
Author: Kiersten White
Read: June 30th, 2014
Source: Edelweiss
Reason Why: Love her writing and it's a WoW Book and a SAC 2014 Book!
Publisher: Harper Teen
Expected Publication: September 9th 2014
5/5 Hearts
5/5 Books
5/5 Stars