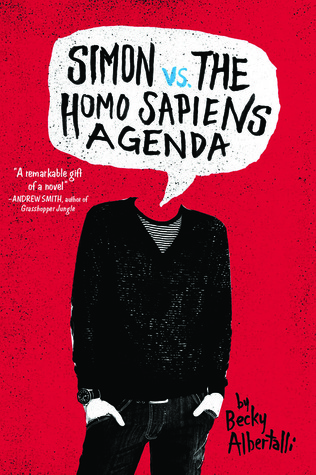 From Goodreads:
Sixteen-year-old and not-so-openly gay Simon Spier prefers to save his drama for the school musical. But when an email falls into the wrong hands, his secret is at risk of being thrust into the spotlight. Now Simon is actually being blackmailed: if he doesn't play wingman for class clown Martin, his sexual identity will become everyone's business. Worse, the privacy of Blue, the pen name of the boy he's been emailing, will be compromised.
With some messy dynamics emerging in his once tight-knit group of friends, and his email correspondence with Blue growing more flirtatious every day, Simon's junior year has suddenly gotten all kinds of complicated. Now, change-averse Simon has to find a way to step out of his comfort zone before he's pushed out—without alienating his friends, compromising himself, or fumbling a shot at happiness with the most confusing, adorable guy he's never met.

My Review
:
This book was so fantastic! I enjoyed it so, so, so much, Simon was such a great character to read about! I loved reading about him and his friends, his story and theirs, they were interesting and different and really great!
It sucked that he was blackmailed. That he was blackmailed because he hadn't logged out of his email on a public computer. That someone went through it, because he could. That sucked. And to be blackmailed to set the guy up with his friend? That was pretty awful!
There was the mystery of who Blue was (and since I read the end I knew who he was!) and the clues that were there, and how they interacted, it was so cute! And their emails! I enjoyed them so much, with the subjects and the messages, they were epic!
When Simon came out to his family, that was pretty funny, because there wasn't a big reaction, it was something that wasn't all that surprising to them. And that he and Blue had that happy ending, after the blackmail material was released and the bullying that ensued.
Really fantastic book (and I'm going to be doing a homework assignment on it!) and I enjoyed it so much!
Author: Becky Albertalli
Read: October 29th, 2015
Source: Edelweiss
Reason Why: Sounded really awesome, and it's a DAC Book, SAC 2015 Book and a WoW Book!
Publisher: Balzer + Bray
Published: April 7th 2015
5/5 Hearts
5/5 Books
5/5 Stars