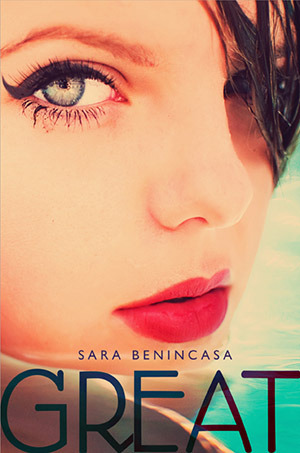 From Goodreads:
In Sara Benincasa's contemporary retelling of The Great Gatsby, a teenage girl becomes entangled in the drama of a Hamptons social circle, only to be implicated in a tragedy that shakes the summer community.
Everyone loves a good scandal.
Naomi Rye usually dreads spending the summer with her socialite mother in East Hampton. This year is no different. She sticks out like a sore thumb among the teenagers who have been summering (a verb only the very rich use) together for years. But Naomi finds herself captivated by her mysterious next-door neighbor, Jacinta. Jacinta has her own reason for drawing close to Naomi-to meet the beautiful and untouchable Delilah Fairweather. But Jacinta's carefully constructed world is hiding something huge, a secret that could undo everything. And Naomi must decide how far she is willing to be pulled into this web of lies and deception before she is unable to escape.
Based on a beloved classic and steeped in Sara Benincasa's darkly comic voice, Great has all the drama, glitz, and romance with a terrific modern (and scandalous) twist to enthrall readers.

My Review
:
This was a really fantastic, and really quick book! I enjoyed reading it a ton, it was a really great story, one that was just really awesome to read! So glad that I got a chance to read it, because oh, boy, it was just really great!
I've never read The Great Gatsby, and I've seen the recent movie based off the book, but not all together. So I know of a few changes, like changing the character based off of Gatsby into a girl, and maybe the ending, when the truth comes out, because I don't think it did. And adding in her mom's business, and everything that went on there, was really great! Oh, and Naomi's best friend, and her side story!
Having the setting as a modern day Long Island, and with the rich people who "summer" there, that was pretty perfect, it was a great freshening of the story in this update! I enjoyed that a ton, it made it nice and awesome!
Knowing that things were going to go bad, seeing as we started the book after the events of the summer was over, at least for Naomi, there was a sense of anticipation that something bad was going to happen. And then it did. But then things got a bit better!
Yeah, it was really great to read this book! Just so great! Really enjoyed it a lot!
Author: Sara Benincasa
Read: August 18th, 2015
Source: Edelweiss
Reason Why: Sounded really great, and it's a 2015 Retelling Reading Challenge Book and a SAC 2015 Book!
Publisher: Harper Teen
Published: April 8th 2014
5/5 Hearts
4/5 Books
4/5 Stars