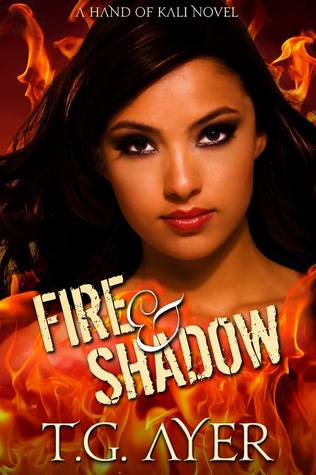 From Goodreads:
Normal people sneak out to a party and have fun. Maya Rao ends the evening by incinerating the guy who attacks her.
Nik Lucas, sexy, new in town and totally forbidden, happens to walk in on her. Normal guys would run for the hills. Nik knows a whole lot more than he's telling.
Maya doesn't believe the gods are real, doesn't waste her time with mere mythology. But when gods, demons and hellhounds become the new normal and wielding fire becomes her new skill, she must decide what it is she really believes.
Can Maya accept that normal is something she will never be because it isn't normal to be ...
The Hand of Kali.

My Review
:
I'll be honest and say that this book didn't capture my heart and imagination as much as the Valkyrie series. But that would be hard to do, seeing as it's one of my top series! This book, it was really enjoyable, and I did enjoy and like and love it a lot. It just didn't reach that really high, high peak that I have to have, given the sheer volume of books that I read (and almost all love!)
I enjoyed the Hindu mythology. It's not often that you read that, the only other time that I can remember is the Tiger saga by Colleen Houck, so yeah, that was a treat, it's nice and unique, and I just enjoyed reading about Maya starting on this journey, being The Hand of Kali!
And then there was the reincarnation, which is a bit more popular topic, but I loved how it was handled, and how it worked, and while it was a minor part in the book, I have a feeling that it might become more important, especially when the states get higher, and so do the risks!
Between all the characters, I was just surrounded by depth. Maya had her ticks, which was pretty evident from the first page, and then there's Nik, who is a story in and within of himself, and then Maya's 2 best friends, they were just awesome! I just enjoyed all the good guys in this book!
I enjoyed this book so much, and I can't wait to read more!
Author: T.G. Ayer
Series: The Hand of Kali #1
Read: July 31st, 2013
Source: Author for Review
Reason Why: Because I enjoy her writing!
Publisher: Infinite Ink Books
Published: July 25th 2013
5/5 Hearts
4/5 Books
4/5 Stars